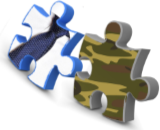 We offer a consultative and informed recruitment service dedicated to those who have served in the Armed Forces.
Working with employers from both the public and private sector across a broad spectrum of disciplines, through our commitment and integrity we match the right candidates to the right employers.
Thousands of employers have already benefited from the growing ex-military pool, we look to connect professional, committed and motivated people with employers looking to recruit the finest!
Forward Assist Recruitment has an unrivalled reputation for its honesty and passion throughout the life cycle of the process for both parties, we strive to exceed expectations and to deliver above and beyond what clients and candidates expect of us.


This email address is being protected from spambots. You need JavaScript enabled to view it.
Current Vacancies
Tips and Advice